Products/Director
From eqqon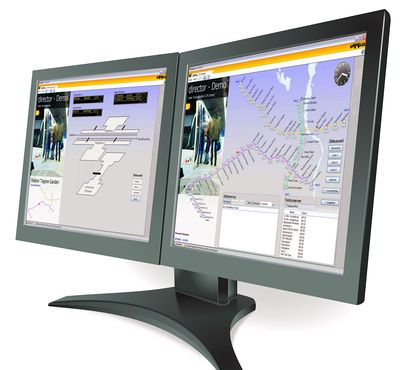 director
Director is a comprehensive security and evacuation management system with a focus on usability and productivity. The software provides a fast overview of your public address system's status and makes operating life- or text calls very easy by means of an intuitive and fully customizable graphic user interface. Director supports the public address systems Variodyn D1 and Variodyn 3000 and has been successfully deployed to manage the evacuation systems of facilities as complex as large airports, public transportation providers or shopping centers.
---
This page contains the following categories of information. Click to jump down.
---
Functionality
NEW

Online Equalizer and Delay Setup
Directly access the audio properties - parametric equalizer and delay - of your devices and change them on the fly. Simply drag the frequency response graphs and delay sliders and apply the settings in the running system or download the current settings from the devices. No system reboot needed.
NEW

Online Audio Levelmeter
See the actual level from any channel of your installation. Individually position level meter items in your user interface and watch the audio level of the signal on inputs or outputs of your systems.
NEW

Dynamic Audio Matrix configuration
Combine and switch any available audio sources and audio destinations at ease. Director's dynamic audio routing user interface elements open completely new and ubiquitous ways of using your audio system. Every change you make has immediate audible effect - no configuration update or rebooting of the devices is required.
NEW

Various Utilities and Tools
Enrich your user interface with utilities such as analog or digital clocks and other handy tools.
Create intuitive user interfaces with just a few clicks
Director allows you to place and arrange controls for operating calls, adjusting audio loudness and many more functions on a fully customizable graphic workspace. Create interactive maps of your buildings / facilities and productively manage their evacuation systems. Save time and money by using director's flexible interactive workspace editor to easily adapt the software to your constantly changing needs.
See what's going on in your PA system
Director visualizes the usage of your announcement zones in real-time. You can monitor the status of the system's devices, view event messages and more.
Manage users and control access
Keep control of the parts of user interface the personnel may view or change. Create secure areas that can only be accessed by authorized staff.
Delight your audience with comfortable loudness
Background music usually is comfortable only if the loudness is moderate. With director you keep control of the audio volume in your acoustic zones. Prepare loudness presets for various occasions, fine tune the volume in every different zone and assign different loudness for background music or announcement calls.
Extend your workspace to many monitors
Director is the ideal solution for multi-monitor desktop environments such as control center work places.
Analyze system messages
System messages are automatically recorded by director and stored in a database. Analyze what has happened by utilizing director's powerful search filters. The security personnel can acknowledge new errors and attach comments.
Software Requirements
Software Infobox

director
Basisdaten
status
Released, Available
type
director is a comprehensive
security and evacuation management system
with a focus on Public Address Evacuation
Operating System: Windows XP, Vista, 7
autors
eqqon GmbH
version
1.6
changelog
Changelog
description
director Application
copyright
(c) 2010 by eqqon
Hardware requirements
Processor: 1,2GHz (optimum: dual core)
RAM: at least 256MB for the application (optimum: 2GB system RAM)
Hard disc space: 100MB (optimum: 500GB drive)
Graphics: hardware support for Direct X9
Network: 100MB Ethernet
Mouse: 3 buttons with scrollwheel
Software requirements
Operating system: Windows XP 32bit Service Pack2, Windows Vista 64bit, Windows 7 64bit
Libraries: .Net Framework 3.5
Graphics driver: Direct X9
Price Information and Ordering
To aquire an up-to-date price list or to order director please send an email to sales(at)eqqon.com.
Resources
Sales resources
Variodyn is a registered trademark by av-digital.